04 Apr

Connecting your Hunter Douglas PowerView® to IFTTT in 5 Easy Steps

In our previous blog, we spoke about IFTTT, a free platform that allows you to connect multiple devices and apps to create a fully automated experience, and how this platform can help you get more out of your motorized window treatments.

Whether you are a home automation enthusiast or you are a beginner, you can create a personalized whole-home connected experience by integrating PowerView Motorization with compatible smart devices and apps via the IFTTT Platform.

How To Connect Your Hunter Douglas Powerview® System With IFTTT In 5 Easy Steps:
 Install the IFTTT Application on your smartphone or tablet via the App Store (if using an iOS) or Google Play Store (if using an android).
If using a computer click here.
 Create your IFTTT account by using an email and password, or you can connect via your google or fakebook accounts for faster set up and future log-ins.
 In the IFTTT search bar, type in "Powerview"
 Click the Connect Button

Sign into your Remote PowervView® Account.

CONGRATS! YOU ARE CONNECTED!
You can now use the existing applets in IFTTT to connect your Hunter Douglas PowerView ® motorized shades to amazon Alexa, Phillips, weather apps, Lutron Electronics, Crestron Home Automation devices and so much more.
Take a look at a few sample applets below.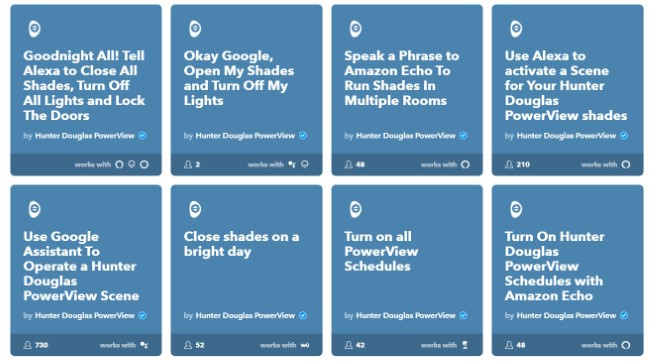 Connect Alexa to All Hunter Douglas Shades Using IFTTT
Okay Google, Open My Hunter Douglas Shades
Connect Amazon Alexa to Activate a Scene For Your Hunter Douglas Shades
Google Assistant & Hunter Douglas Shades
Use Amazon Echo to Turn On Hunter Douglas Powerview
And much more!
Don't See an Applet You want, you can suggest a new one to IFTTT!

Ready to create a space that is fully integrated? Contact Shades By Design today for your FREE motorized window treatment consultation.